Restaurant hoods & fire suppression
Restaurant hood systems are incredibly important to the safety and efficient operation for your new business venture. In fact, they are mandatory in most foodservice applications. TI Restaurant Supply & Design offers a no charge consultation to assure the correct hood system and fire suppression is ordered. For information on purchasing the correct size restaurant hood with exhaust fans for your kitchen. Call us at (619) 336-0660. After determining the correct restaurant hood or kitchen exhaust system, we can specify the accessories that will meet the local codes. Getting you the right equipment for your operation is our goal.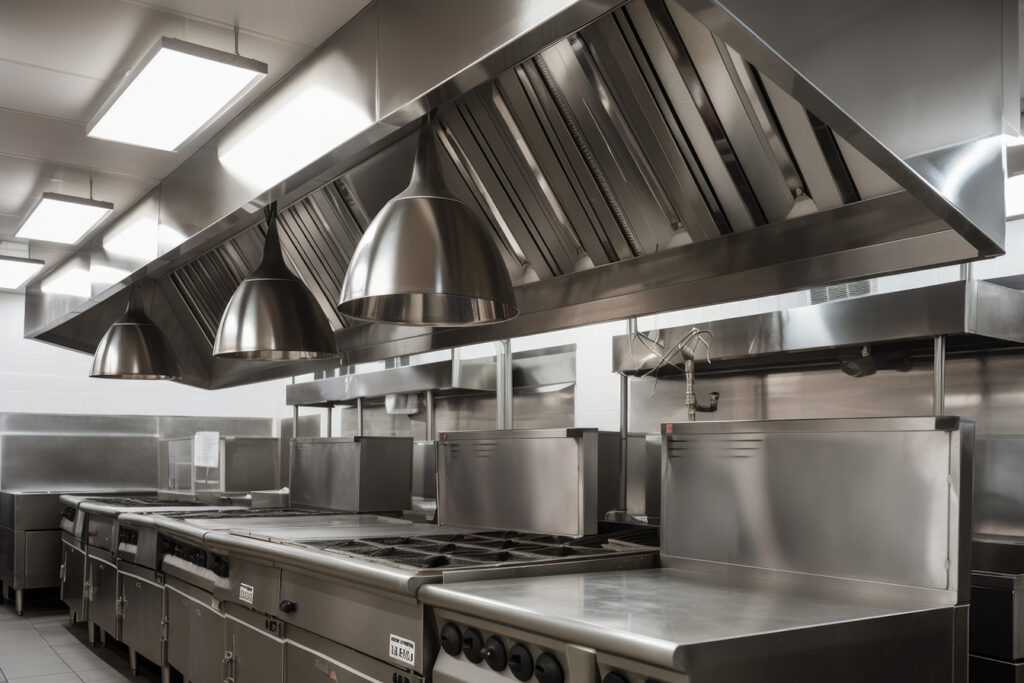 Tips: There are several types of exhaust hoods that you can choose from, depending on your particular needs. In a restaurant setting, the vent hood is designed to be the engine for the commercial kitchen aeration system. Before purchasing a hood for your restaurant, consider that the national fire code states that you have to have 6″ of overhang on either side of the equipment, so 6 feet of equipment requires a 7 foot hood, 7 feet of equipment requires an 8′ hood, etc. etc. You should also check with your local municipality for local codes and ordinances.
Fully Integrated Self-Cleaning Hood
This system is available on CaptiveAire's premier line including ND-2, SND-2 and BD-2 Hood Models. The system cleans grease from the plenum and portion of the duct with the daily hot water spray cycle.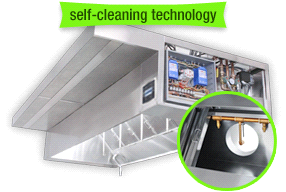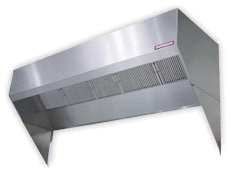 Low proximity hoods hang lower over the cooking equipment and allow for lower exhaust flow rates and a smaller hood than traditional Wall Canopy Styles. Hood are options available to cover all temperature ranges.
Wall Canopy Hoods (type I and Type II)
Type I hoods are used over cooking equipment to remove heat, smoke and grease-laden effluent. Type II are used to capture heat and/or condensate from non-grease producing appliances. Optional Sloped Front available on Type I to accommodate low ceiling applications.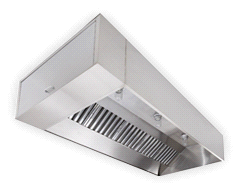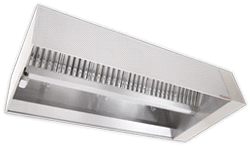 Single and Double Island Hoods
Single and Double Island hoods are used to remove heat, smoke and grease-laden effluent. Hoods are used over cooking equipment where no walls exist or can be used for display cooking.
PSP & AC-PSP Plenum Options
The Perforated Supply Plenum (PSP) introduces make-up air near to the hood and directs the air downward to the capture area of the hood. The Dual Plenum (AC-PSP) design adds an additional plenum to allow for convenient termination of AC ductwork to the kitchen and provide spot cooling.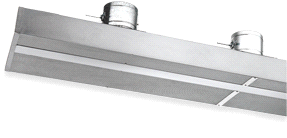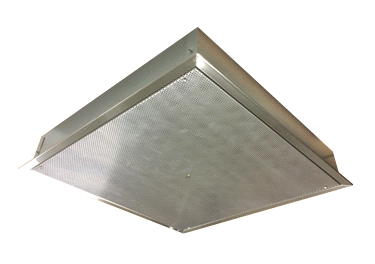 DI-PSP Diffuser offers an innovative solution to deliver replacement air in the vicinity of the exhaust hood without affecting capture and containment. The double layer of perforated metal of the DI-PSP ensures a laminar air discharge pattern.
restaurant Fire suppression systems
For restaurant owners, their kitchen is the heartbeat of their operation. It's where Fires are more likely to occur in a restaurant than nearly any other kind of business. Employees will have continual exposure to high heat, fires can break out for a variety of reasons. Regardless of why a fire starts out, what is important is suppressing the fire as quickly as possible of putting out a fire quickly and efficiently. There are several different systems available
Restaurant Fire Suppression Systems are Your First Line of Defense
According to the National Restaurant Association, 57% of all restaurant fires involve cooking equipment. This means the fire can be contained if you have a suppression system installed. Properly training your staff, cleaning up grease, and having a fire extinguisher readily available when fire breaks out in other conditions is still important, but you can cut down your fire potential by nearly 60%. Therefore, fire suppression system instantly becomes your first line of defense. You just need to know more about it and how it works.
Easy to Use with Manual Options
Restaurant fire suppression systems are generally easy to use. Much like the sprinkler system running through professional buildings, the suppression kicks on when it detects flames and growing heat. Different systems do have different ways of detecting a fire, so be sure to look into this when discussing the installation with a service provider. Once tripped, the two-prong approach kicks in quickly to kill the fuel source while dousing the flames. This keeps potential financial loss to a minimum, with only the food on the cooking surface destroyed.
Manual activation should come as an option. As is the case of fires when a sprinkler system is present, if the designated trigger is not activated, the nozzle system may not turn on until the fire has spread beyond the cooking surface. To prevent this from happening, a manual activation point on the restaurant fire suppression systems allows an operator to turn on suppression, killing the flames quickly.
When is a Fire Suppression System Necessary?
Not all restaurants have a fire suppression system. When is it necessary to have such a system installed? In any commercial kitchen, it does not matter the location, it is a safety precaution. From a football stadium to fast food kitchens and really anywhere else in between, kitchen fires can quickly burn out of control. With most fires starting on the cooking surface, having a system in place that kills the fire without shutting down the kitchen allows staff members to clean up and get back to work, without customers ever knowing of the sit
Finding the Right Restaurant Fire Suppression Systems it come in many different size variants. Such a system is usually installed into the current hood of a kitchen. This gives the installation service providers the ability to adjust the size of the system and the amount of liquid fire suppressant readily available. While no two restaurants are exactly alike, most kitchens share similar traits, so having this kind of setup installed is not difficult and can be customized to fit the restaurant's needs.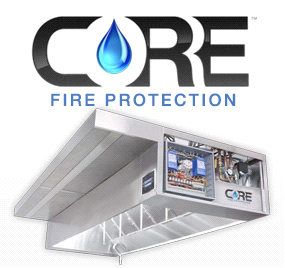 CORE Fire Protection System
CORE Fire Protection System is an automatic, pre-engineered fire suppression system which is ETL listed to UL Standard 300. The CORE Protection System is designed to provide primary coverage for ventilating equipment including hoods, ducts, plenum and filters.
The Electric Wet Chemical Fire Suppression uses electronic fire detection and activation paired with traditional wet chemical fire suppression agent to quickly and accurately suppress fire.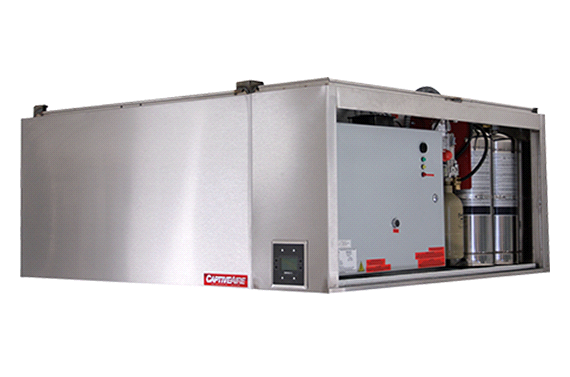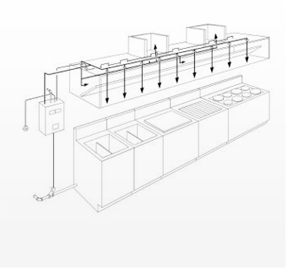 Ansul PIRANHA Fire Suppression System
The Ansul PIRANHA Restaurant Fire Suppression System is an automatic, pre-engineered, fire suppression system designed to protect the following areas associated with cooking equipment; ventilating equipment including hoods, ducts, plenums, and filters.
R-102 Fire Suppression System
The Ansul R-102 Restaurant Fire Suppression System is an automatic, pre-engineered, fire suppression system designed to protect the following areas associated with cooking equipment; ventilating equipment including hoods, ducts, plenums, and filters.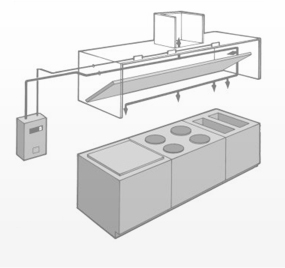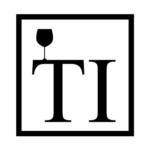 We're here to answer all your foodservice questions.